The Rob Leather Physiotherapy team has extensive experience in providing sports physiotherapy services at the highest levels of performance.
The team has worked for over 12 years providing physiotherapy and sports medicine services for numerous Professional teams and organisations, such as England Cricket, Leicestershire County Cricket Club, Leicester Tigers and Denstone College.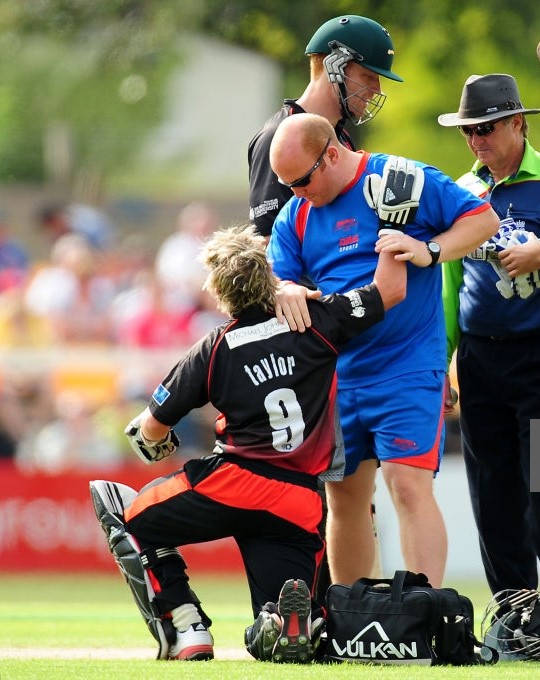 Leicestershire Cricket
Maximising elite performance, 2008 to 2018
Rob Leather was 1st team physiotherapist for 10 years from 2008 – 2018 and Sole provider of physiotherapy services to Leicestershire County cricket club 2010-2018
We provided daily physiotherapy services for all the professionally contracted cricketers:
Managing all injuries sustained by the players and coaches
Attempting to minimise injury by screening and risk profiling the players and the environment
Developed training programmes in conjunction with Strength and Conditioning Coaches
Injury prevention work within the gym in the off season to maximise elite performance
Rob Leather was part of the successful Leicestershire CCC team to win the Domestic T20 competition in 2011, Qualifying for the T20 Champions League in India 2012.
England cricket
Rob Leather has been involved with England cricket since 2009 assisting in providing physiotherapy support to numerous cricket programmes based at the world class facilities at England Cricket's National Performance Centre in Loughborough University.
The programmes supported are:
2009  England U17's:  Development pathway winter training programme and overseas tour to India
2010 – 2016: Elite Fast bowling programme – Athletic development programme of England Cricket's future fast bowlers based in Loughborough, India and South Africa.
2018-2019: England U19's – Providing match day cover to the U19's cricket team and regional Super 4's competition.
Leicester Tigers
Will  Gowtage was between 2010 and 2021 a key part of the Medical and Rehabilitation team at Leicester Tigers Rugby club.  Will was responsible for the daily management of the international and senior Squad players  Leicester Tigers, working closely within a multi-disciplinary team to ensure all players are provided with cutting edge medical care and developed into elite athletes capable of developing into World class professional rugby players
Rowena Myrans continues to work for Leicester Tigers Rugby Union team. At Leicester Tigers she treats development and first team players as well as providing on pitch care for Premiership and European matches
Denstone College
Rob Leather Physiotherapy provides physiotherapy services to Denstone College, an independent school in Staffordshire. The College has strong links with professional sports teams such as Leicester Tigers, Derbyshire and Warwickshire county cricket clubs.  The college boasts a strong sports tradition and has many pupils who are aspiring to become elite athletes of the future.
Our role at Denstone includes:
A weekly sports injuries clinic at the College providing elite physiotherapy support.
Assisting the Strength and Conditioning coaches with player development programmes
Providing Pitch-side cover for all Senior rugby matches and 7's tournaments.
Providing the medical support on pre-season Rugby tours (Japan and North Wales)